Benefit concert for Answers4SUDC - Emmett Frank
Exclusive offer for United Eyecare Providers
VIP experience for $200 or $40 for general admission
Live in Concert
Andy Grammer
FEATURING:
Marty Casey and Ali Morgan
Concert Information:
CONCERT DATE: Saturday - September 9, 2017 - 7 pm
LOCATION: Rivers Edge Park | 360 N. Broadway - Aurora, IL.
Promotional tickets available at https://www.answers4sudc.com/
Enter "Promo" as your code upon checkout
VIP Includes Separate entrance to the event; Founders tent access; Front row guaranteed viewing location; Pre-show appearance in VIP tent by all artists; Entered for Andy Grammar meet and greet; Separate restrooms and Merch experience; Select food and beverage including Whiskey Acres, Event keepsake.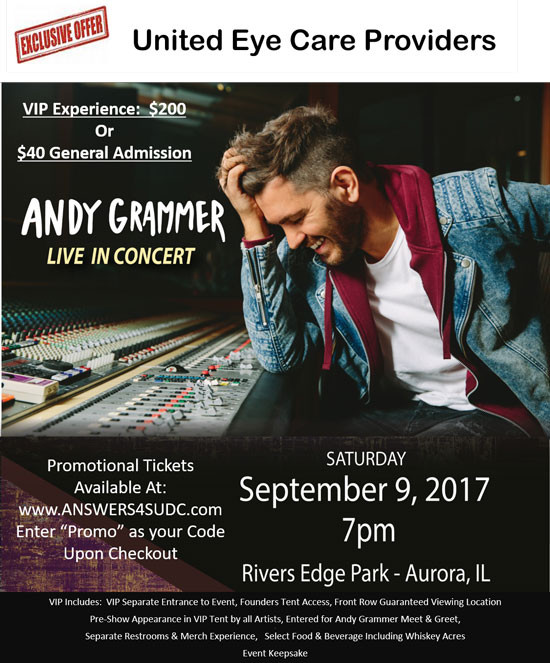 About Answers4SUDC
We are an innovative charitable effort to honor the memory of Emmett Frank while raising awareness and funds for research and family support for Sudden Unexplained Death in Childhood.

Emmett was an especially happy little boy with an infectious smile. By hosting Answers4SUDC, his parents, Jeff and Kristy Frank hope to someday prevent the tragedy of Sudden Unexplained Death in Childhood (SUDC) so that no other family might have to endure this loss.
Stay update-to-date at https://www.facebook.com/answers4sudc/

The facts
Sudden Unexplained Death in Childhood (SUDC) is the sudden and unexpected death of a child 12 months and older which remains unexplained after a thorough case investigation is conducted.
This must include; examination of the death scene, a performance of a complete autopsy, and a review of the child and family's medical history.

SUDC is a category of death that currently eludes our scientific understanding today.
​
We do not know of any way to reduce the risk of SUDC. It is unpredictable and unpreventable at this time.

Learn additional facts about sudden unexplained death in childhood at www.sudc.org
The SUDC Foundation is dedicated to increasing the awareness of sudden unexpected deaths in childhood, and funding crucial research to better understand and prevent these tragedies. We are the only organization worldwide devoted solely to the needs of families and professionals touched by unexpected/unexplained deaths of children.