AccuLens a Proud Sponsor of Vision By Design
Missed you in Orlando- Vision By Design 2018!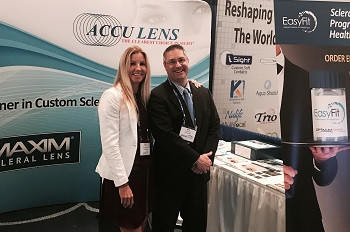 LAST CALL: FREE PAIR OF SCLERAL MULTIFOCAL & 50% OFF TRIAL SETS OFFER EXPIRES APRIL 30, 2018
If you missed the MULTIFOCAL SCLERAL BREAKOUT SESSION :
Attaining Success with Multifocal Scleral Lenses - Learn real solutions for the emerging presbyopic patient and higher ADD patients with the Maxim and EasyFit Scleral lenses. AccuLens offers multiple multifocal design optics which include a Dual Asperic for the emerging presbyope, Center Add and Center Near Progressive. Learn how to incorporate these multifocal designs in your practice.
OPEN AN ACCOUNT TODAY AND RECIEVE 50% OFF MAXIM AND EASYFIT TRIAL SETS PLUS A FREE PAIR OF EASYFIT MULTIFOCALS.($550 VALUE) EXPIRES APRIL 30, 2018
CLICK THE LINK BELOW: COMPLETE THE ACCOUNT FORM TO BE ELLIGBLE